I give them what they want, until they come to want what I have to give.

Sai Baba of Shirdi
Sai Baba of Shirdi Sai Baba, is an Indian religious figure who lived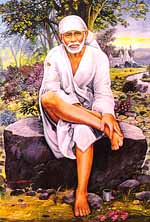 from the mid-19th Century to October 15, 1918. He was considered a Guru and holy man to both Hindus and Muslims.
Sai taught that all religions lead to the same goal, knowledge of the Self and Guru. He worked hard to show the underlying unity between the Muslim and Hindu faiths. One of his most famous sayings was "God is the Owner of us All."
Like Bhagavan Nityananda Sai's childhood is obscure. Some believe that he was raised in the village of Pathri, by a fakir and his wife. When he was around sixteen years old he arrived in the village of Shirdi, in Maharashtra.
He lived a very ascetic life, spending many hours in prayer and meditation. Some called him a saint; others were less impressed by this ascetic. He settled in a run down temple, and later a dilapidated mosque. Without any attempt to attract followers, both Muslim and Hindus were drawn to his presence.
As well as teaching spirituality and tolerance of religions, he was also known for his ability to create miracles, such as materialising objects out of thin air. As his life progressed, increasingly big crowds were attracted to wherever he went. Sai lived in Shirdi all his life and was buried in the Buty Wada, also known as Samadhi Mandir.
Some months ago, Swamiji found out that his friend Premakantha Kurukal, a Brahmin priest, was tending a Sai Baba temple in Mordialloc, a small town a half hour drive from the ashram. One evening Swamiji decided to surprise him with a visit.
Tricky to find, hidden by the side of the railway line we wandered through a small lane, much like the paths in Varanasi. At the end, a row of shoes led us to the door of the temple.
I gasped in wonder as we walked in. There was Sai Baba  resplendent in Shakti and love. I was in awe as to how beautiful and alive he is. He is just as beautiful as the murti in Shirdi. His radiance is startling. Premakantha was travelling, but a young man gave us fruit and flowers to offer Sai and we sat to meditate.
On either side of him are two words: the one on the left as you face him, is shraddha, meaning have faith and believe in him. The other on the right is saburi, meaning have patience. Two great statements for all those who are praying to him for blessings and boons.
A rarity in a temple, everyone participates in the Arati–you can wave the light and fan him in the traditional way. It is delightful to participate in the Arati, chant and soak up the blissful energy. It is a beautiful ceremony and love flows from Sai and the devotees as chanting fills the space. It is intimate, powerful and full of love.
A few weeks later Swamiji took a group of us to the temple again. Premakantha was ecstatic to see him and us. He greeted us all with love and joy and immediately had Swamiji waving the lights during Arati.
Sai Baba seems to be everywhere these days. In India his photograph and temples are all over the country and now he is very present in the West. There are at least three temples that I know of in Melbourne. He is renowned for granting the wishes of his devotees, whether it is for a marriage, a job, health issues, relationship, a child, and whatever the heart desires.
On my most recent visit to the Mordialloc temple, I was astonished at the amount of shakti and love permeating from him. As I walked toward him, I felt a familiar welcome that I have always attributed to Baba Muktananda. But there now Sai was smiling and twinkling. I felt a deep acceptance; Sai's blessings surrounded me and I was infused with his grace.
Like Bhagavan Nityananda his Consciousness lives wherever he is praised and worshipped. His devotees say that he himself said that after his samadhi, he would bless and protect everyone who takes refuge in him.
Truly speaking he is one of the greatest siddhas that ever lived. The hundredth anniversary of his samadhi is this year and it is likely there will be pujas, aratis and chanting programs in all of his temples.
Quotes attributed to Sai Baba:
Whoever puts his feet on Shirdi soil, his sufferings would come to an end.
The wretched and miserable will rise to joy and happiness as soon as they climb the steps of the mosque.
I shall be ever active and vigorous even after leaving this earthly body.
My tomb shall bless and speak to the needs of my devotees.
I shall be active and vigorous even from my tomb.
My mortal remains will speak from my tomb.
I am ever living to help and guide all who come to me, who surrender to me and who seek refuge in me.
If you look to me, I look to you.
If you cast your burden on me, I shall surely bear it.
If you seek my advice and help, it shall be given to you at once.
There shall be no want in the house of my devotee.
Sai Baba's biography can be found on wikipedia at https://en.wikipedia.org/wiki/Sai_Baba_of_Shirdi
The Temple address: 76 Albert St, Mordialloc VIC 3195 0433 547 576 http://www.aumsai.org.au/